MASTERS OF WATER-COLOUR PAINTING is a little different from other Plum Park Press publications. Originally a conventional book edited by Geoffrey Holme, with an introduction by H. M. Cundall, the book featured 24 outstanding watercolor paintings by leading artists of the time (1923).

In contrast, the PPP edition consists of a small softbound book containing the introduction, and 24 individual prints of the paintings, all contained in a slipcase, with an accompanying easel for displaying the paintings.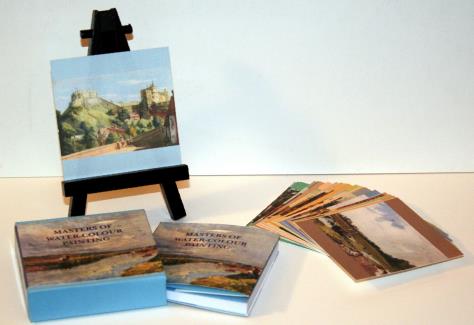 The paintings are reproduced on heavy Canson Montval Watercolor paper, 70 mm (2-3/4 inches) square, and each is identified on the rear. The book consists of 76 pages, and has overall dimensions of 70 x 70 x 6 mm (2-3/4 x 2-3/4 x 1/4 inches). It is softbound in glossy card printed with two of the paintings from the set. Book and paintings are enclosed in a glossy slipcase with dimensions of 73 x 73 x 19 mm (2-7/8 x 2-7/8 x 3/4 inches). The set includes a painted wooden easel 125 mm (5 inches) high and 75 mm (3 inches) wide.

This edition of MASTERS OF WATER-COLOUR PAINTING is limited to 20 copies, price $50 each plus $5 shipping and handling.