JACOBEAN EMBROIDERY, by Ada W. Fitzwilliam, presents a series of plates together with descriptions of the various details involved in the embroidery. An introduction by A. F. Morris Hands provides a more general overview of the subject. To make the miniature version easier to read and use, the text is presented in one volume, and the 27 plates (some in color) in a separate volume. The plates are printed on heavy, smooth paper for best reproduction of the fine details of the embroidery.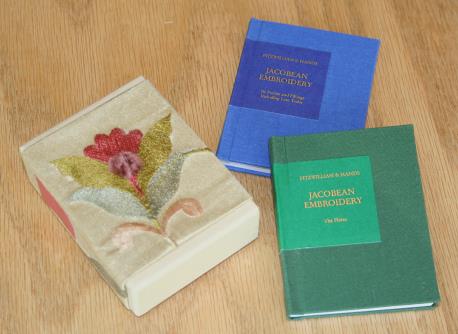 The two volumes are bound in buckram - blue for the text, green for the plates - and come in a slipcase covered with embroidered fabric. Each book carries a color-coordinated spine-and-cover label with gilt lettering.

Each volume of JACOBEAN EMBROIDERY has overall dimensions of  75 x 60 x 18 mm (3 x 2-3/8 x 5/16 inches); the slipcase has dimensions of 82 x 63 x 26 mm (3-1/4 x 2-1/2 x 1 inches).

The Plum Park Press miniature edition of JACOBEAN EMBROIDERY consisted of 15 copies. The price is $50, plus $5 for shipping and handling.