A SCANDAL IN BOHEMIA was the first of many short stories written by Arthur Conan Doyle and published in The Strand Magazine. Those stories were subsequently gathered up and published as a book, The Adventures of Sherlock Holmes. The magazine stories were illustrated by Sydney Paget, and the Plum Park Press edition of A Scandal in Bohemia preserves those fine illustrations.

Scandal was originally published in 1891, although set slightly earlier in 1888. And this is the story that introduced "the woman" - Irene Adler, the only woman who ever made a deep impression on the famous detective.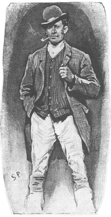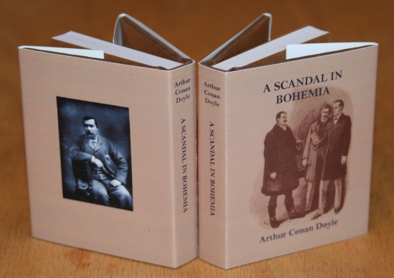 The book is bound in dark brown buckram, with color-coordinated endpapers. A glossy brown dust-jacket carries one of Paget's illustrations in sepia on the front, and a contemporary engraving of the author on the back.

A SCANDAL IN BOHEMIA consists of 140 pages, with overall dimensions of 71 x 58 x 13 mm (2-13/16 x 2-5/16 x 1/2 inches). SOLD OUT